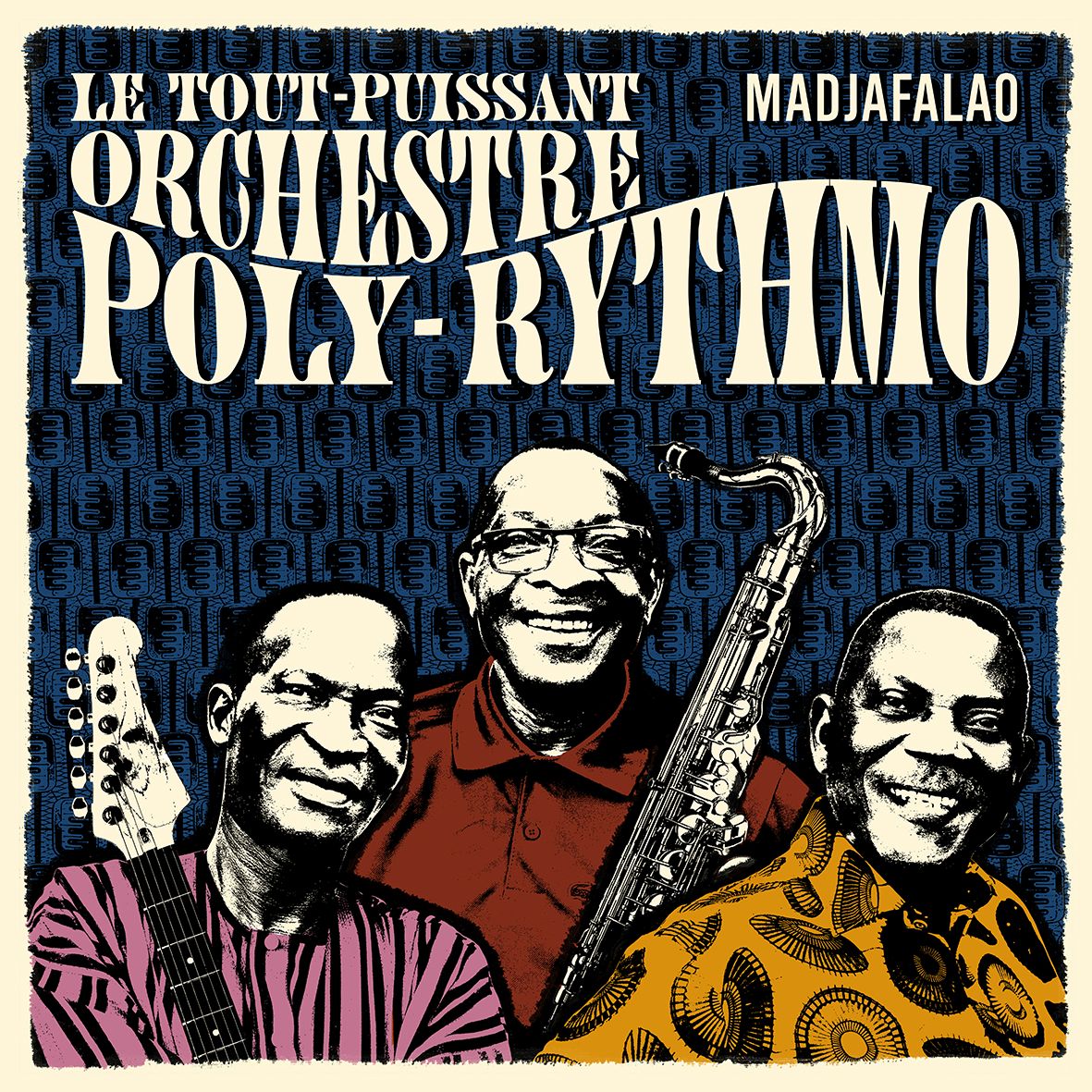 The legendary Tout-Puissant Orchestre Poly-Rythmo of Cotonou is much more than just a music band in Benin and Western African countries, it is like a banner. After the release of their last album "Madjafalao" at Because Music in 2016, and successful tours at Fall 2016, Spring 2017 and Spring 2018, the famous orchestra will be back on tour at Spring/Summer 2020 with a new Best-of album to celebrate 50 years of career !

The Tout-Puissant Orchestre Poly-Rythmo of Cotonou brings close to 50 years of existence and 1000 songs in its discography, mixing funk, soul, and afrobeat musics with voodoo rythms of Benin. Even if they have performed along with the greatest african stars as Fela Kuti, Manu Dibango or Miriam Makeba, and have been broadcasted on the national radio, the Orchestra had never went out of Africa before 2007.
On the occasion of an interview on the French national radio, the band could finally fullfill its dream and leave on international tour in August, 2009, appearing at Villette Jazz Festival, Barbican in Londres, Paradiso in Amsterdam, etc. Their pieces, which did not take a wrinkle, were reedited by prestigious labels as Analog Africa, and festivals all over the world requested them (Printemps de Bourges, Primavera Sound Barcelona, International Jazz Festival of Montréal, etc.)
"Cotonou Club" is the first studio album of the band in 25 years. It was recorded in Paris and released on Sound'Ailleurs / Universal Music Jazz in 2011. It delivers prestigious featurings with Franz Ferdinand, Fatoumata Diawara and Angélique Kidjo.
The new album entitled "Madjafalao" was released on Because Music (the label of Manu Chao, Amadou & Mariam, Christine & The Queens etc.) in October 2016. It has been produced by Florent Mazzoleni, a famous French journalist and writer, specialist of the African music, and it got great reviews !

PRESS 
"The '60s hitmakers Orchestre Poly-Rythmo lead the revival of Afrobeat" Time 
"Angular melodies, punchy horn lines, psychedelic guitar, an injenction of funk and insistent, powerful percussion-beaten out on drums, gourds, bells and shakers. It's music you can't ignore." The Guardian
« Benin's voodoo kings approach their 50th year in fine form » MOJO UK ★ ★ ★ ★
« A punchy horn section and superb percussionists who drawn strongly on Benin's powerful 'voodoo' rhythms to create the Poly-Rythmo sound. » The Evening Standard ★ ★ ★ ★ (Album of the Week)
« One of the great West African big bands of the 1970s » Songlines ★ ★ ★ ★ 
Orchestre Poly Rythmo of Cotonou @ Primavera Sound 2013
 Poly-Rythmo by Calypso Rose
New video clip "Madjafalao" (Because Music / Oct 2016)